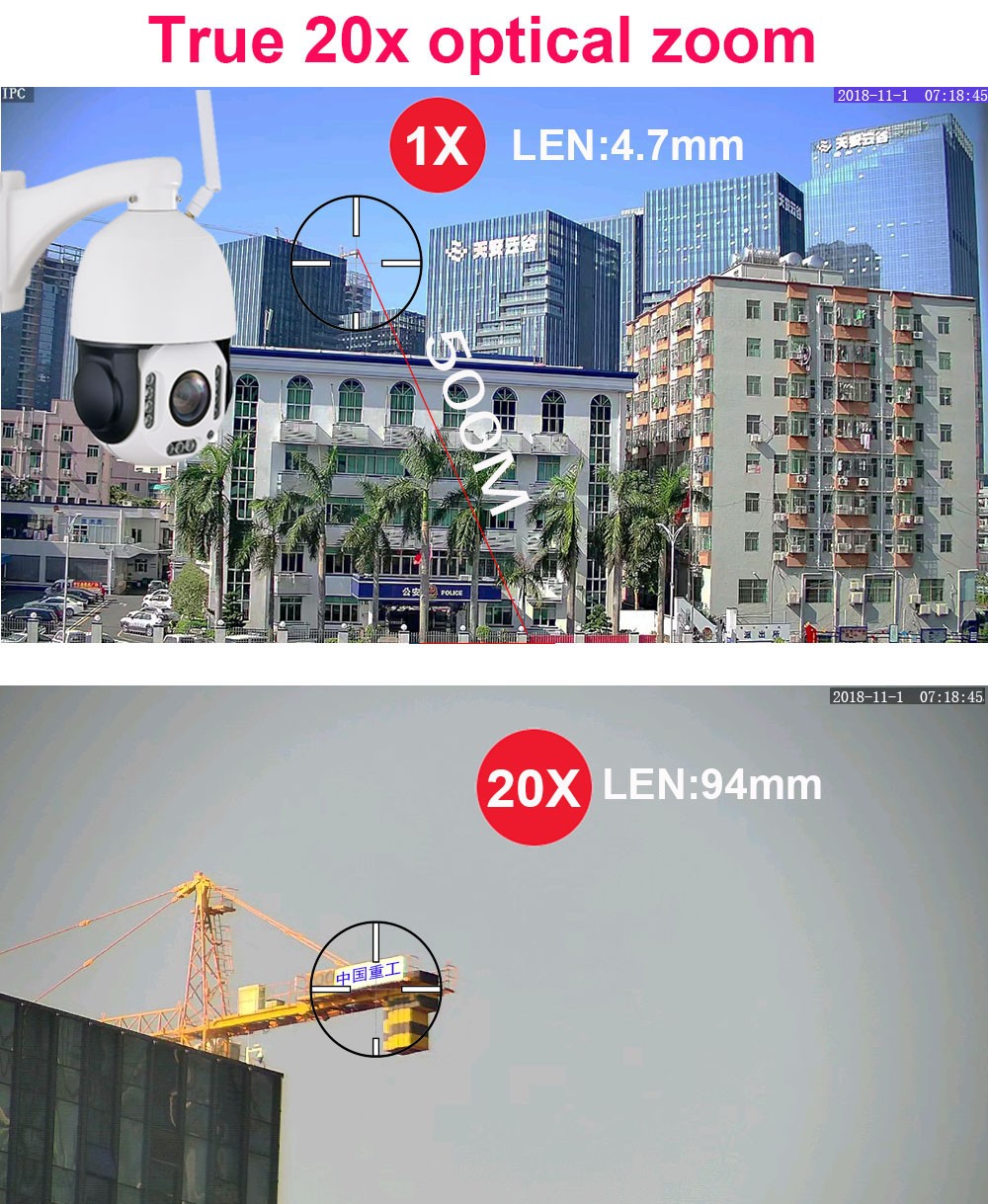 Why choose us?
1, true 20x optical zoom. Never exaggerate the 30X optical zoom, because the 4-inch camera can not put down the 30x zoom lens. not enough space.
2, the real SONY chip, excellent star-level effect. Let you see the color picture at night
3, registered trademarks, complete certification. The quality is safe and reliable.
4, UPC code can trace the source of production globally.
5,Independent research and development, independent production and independent sales. Can provide customers with a full range of technical services.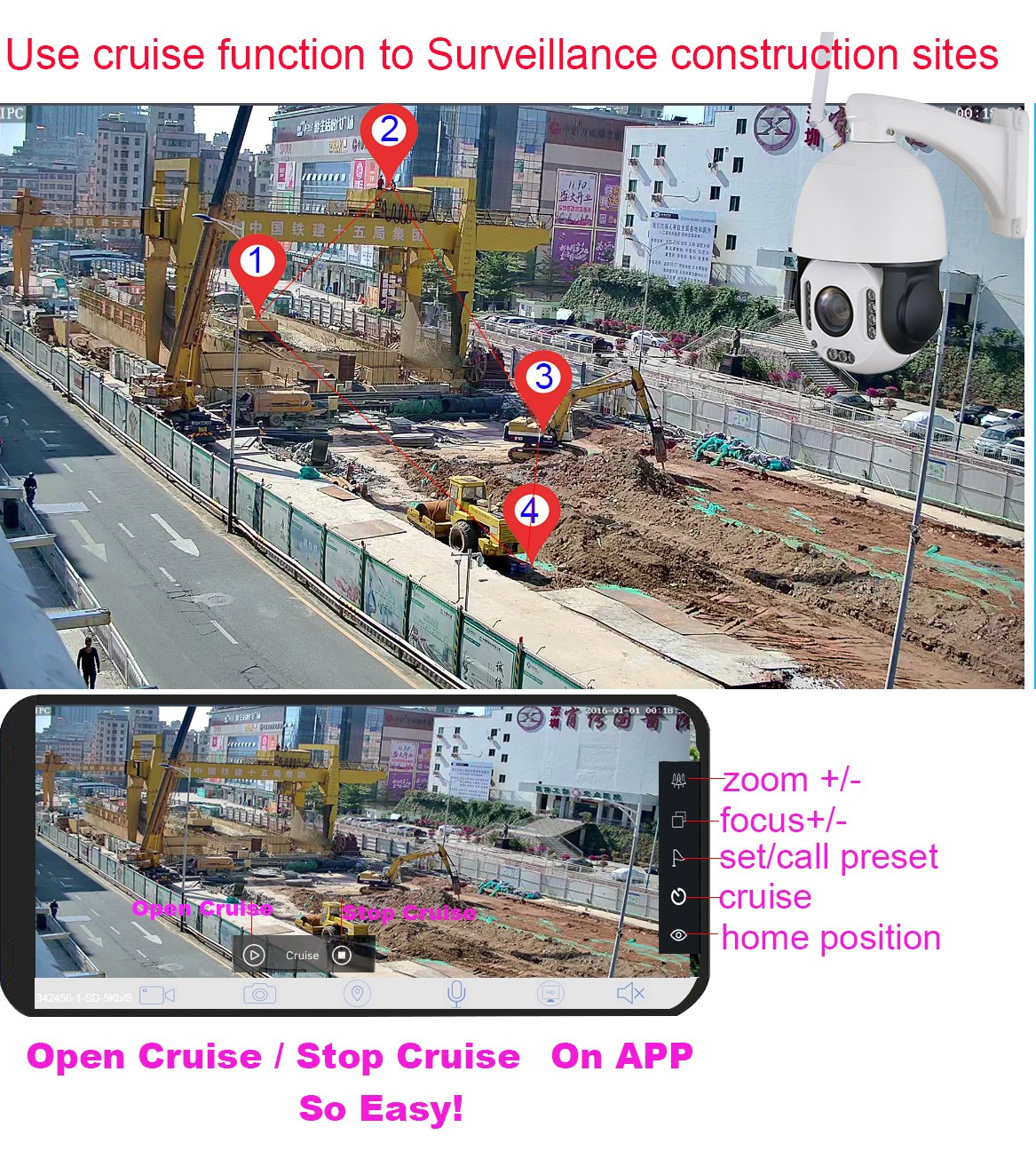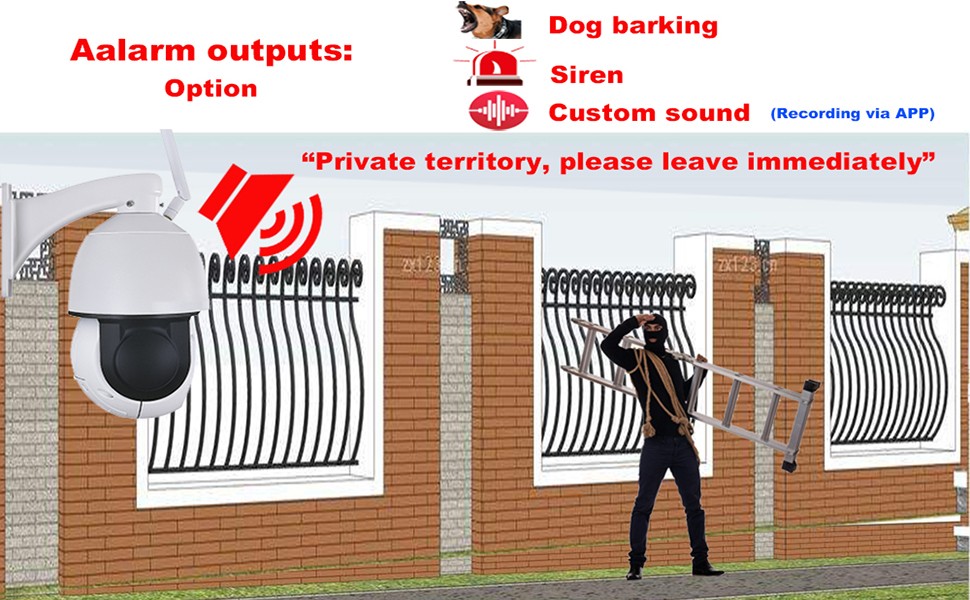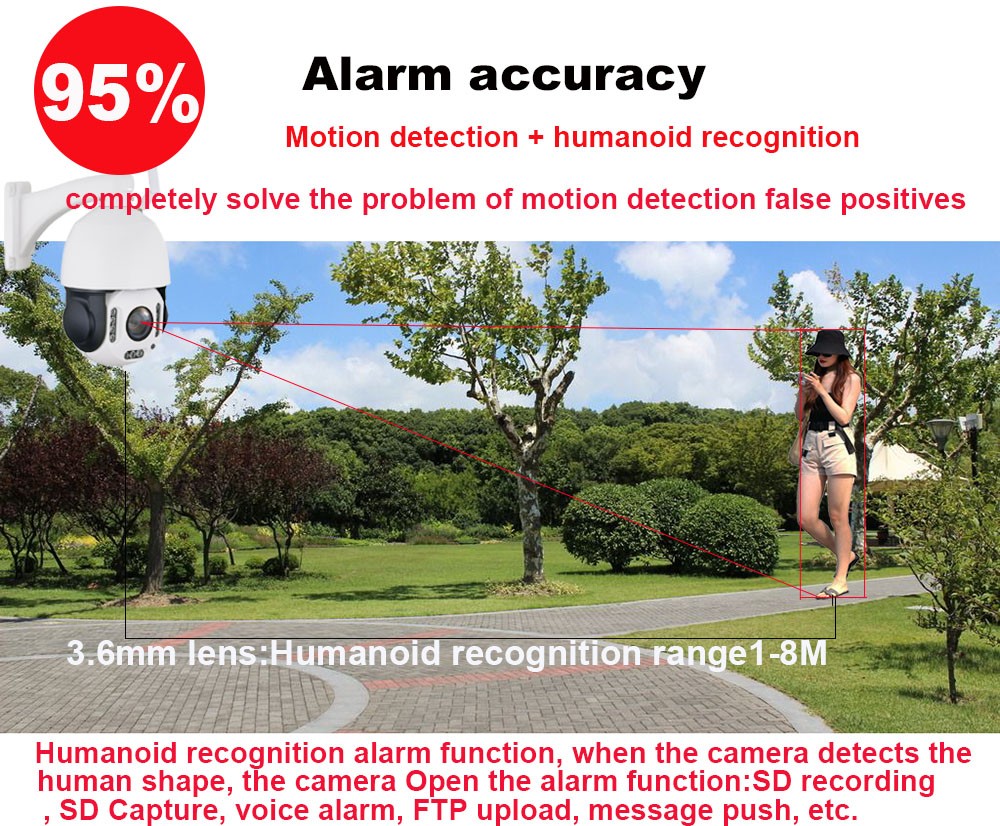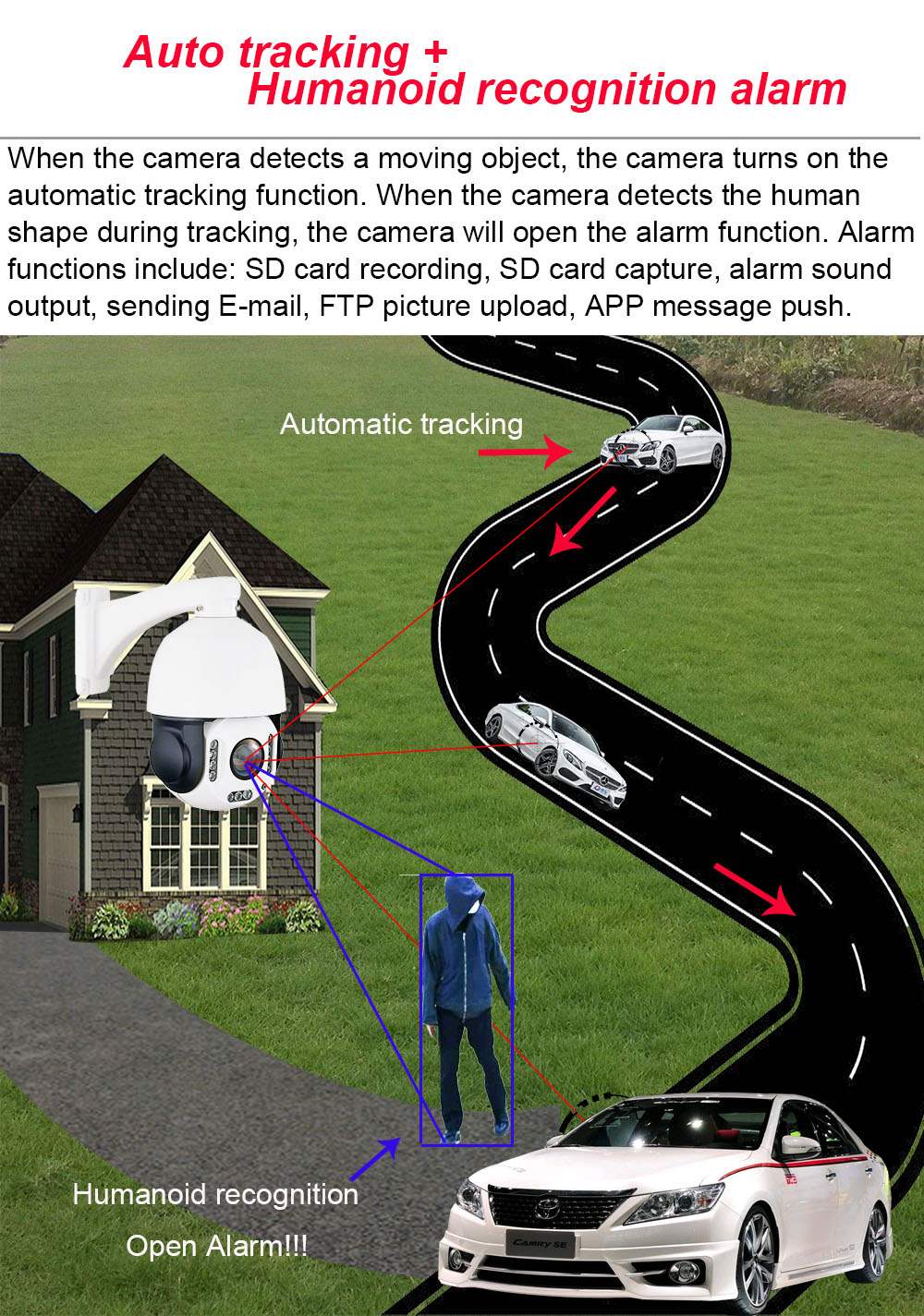 20X ZOOM Camera Main features:
1/3 SONY IMAX starlight 5MP 335 Super illuminance COMS image sensor +Hi3516DV100 CPU
Resolution:2560*1920,2560*1440,2048*1536,1920*1080,1280*720
Three streams are provided and resolution, frame rate, bit rate adjustable.
The first stream is used for LAN or Wan HD monitoring.
The second stream is used for remote user monitoring preview.
The third stream is used for Remote monitoring of poor network speed
>LENS: 4.7-94mm 20x zoom lens.
>Support 2.4G WIFI/802.11b/g/n wireless connection
>Support for humanoid recognition and automatic tracking
> Support wireless wifi hotspot(AP)
>Support 1-64GB SD card storage(need additional sd card).
>Support build in Mic and Support Audio output.
>Support SD card remote Motion detecting and timing snapshot
>Support for audible alarms: dog barking, alarms and custom audible alarm outputs
>Offer 500M SD card storage space for image snapshot(Motion detection snapshot and timing snapshot)
>Support Mobile phone remote preview and playback, and support mobile phone local snapshot and record.
>P2P mobile phone remote It is the industry has the fastest connection speed and can open the image in 2 seconds.and support phone App alarm info sending.
>Support VLC player by RTSP, Support Global standard ONVIF.
>Support Static IP and DHCP.
>Support up to 12 users browsing at the same time(Each stream supports four users).
>Support remote alarm linkage, sending email attaching 3 pictures and alarm information sent to the APP.
>Build in Motion Detection for 4 windows , Privacy Mask , image snapshot , Title OSD.
>Alarm function support: SD card recording, SD card capture, Email mailing, FTP image uploading, voice alarm, APP mobile push, etc.
>Onvif Compliant,support Blue Iris software.
>Smart Phone Support: iPhone, Windows Mobile, BlackBerry, Symbian, Android.
>Support Remote images and video sharing.
>Mobile APP support:about device review,system setting,Password setting,OSD setting,Video setting,Timing Capture,Mirror setting,IR led setting,Email setting,FTP setting,Alarm setting,Wifi setting,Network setting,Audio seting,Recording setting,SD card setting,cloud upgrade etc.
>A mobile phone can satisfy all your fantasies about cameras
PTZ Speed dome Main features:

>11x PCS High power infrared LED, IR night distance 150M.
>Supports 360 degree level rotation , supports 95 degree vertical rotation .
>Support IP66 outdoor waterproof,
>Support 256 preset Set and call
>Support preset delete
>Support Auto scan(Horizontal rotation). the lever of 360 degree clockwise
>automatic scanning,and support modify speed of Auto scan
>Support 5 sets of preset cruise function,Support Modify the stay time of the Cruise and Modify speed of the Cruise
>Left and right limit scan settings.Support Modify the stay time of the >scan and Modify speed of the scan
>Support Idle action settings
>Support Watch(home) position setting
>Support IR light Control settings:Open ,Close,Auto,IR detection threshold setting,IR brightness adjustment.
Technical parameters:
Model

P02Z95LW4T20

Resolution

5MP":2560*1920,4MP:2560*1440,3MP":2048*1536,2MP:1920*1080,720P:1280*720

System

Linux

Processor

HI 3516D V100

Image sensor

1/2.8 SONY IMAX 335 Super Low illuminance image sensor

Video Codec

H.265 /264main profile and baseline

LEN

20x zoom

IR LED

11 PCS IR LED

IR distance

150M

Support mobile phone

All smart phone

P2P Cloud connection

Mobile PHONE APP,browser,P2P Client global Internet

Video Resolution

First stream:2560*1920,2560*1440,2048*1536,1920*1080,1280*720

Second stream:1280*720,704*576,640*380

Three stream:320x176

Frame rate

5MP:15fps,4MP:25fps,3MP:25fps,1080P:25fps,720P:25fps

Bit rate

32-8192kbps

Min.Lux

Color>0.03 LUX B&W=0 LUX

SD card

Support MAX64GB

LAN Client softwawre

IP Camera Client,Blue Iris software and other IP camera client with ONVIF

P2P Client

No matter when, no matter where, as long as there is network, can you open the computer and install the P2P software , you can easily access and control your remote cameras. And this is don't need any network configuration

Support Browser

MS Internet Explorer,Firefox,google browser,and support record and playback in Browser,and support Management 9 cameras in the same Browser

OSD

Support OSD character stack.You can set the time and channel name display or not

Image settings

You can adjust the parameters of image Brightness, Saturation, Contrast, Sharpness, Exposure, Gamma, Distortion, Flip, Mirror, WDR, Shutter and Noise

Audio

Support G711 Coding format,and support 3 streams audio in and output

IP address

Support Automatic access and customization ip address

LAN interface

Wifi wireless ,RJ45 10Base-T/100Base-TX, WIFI/802.11b/g/n wireless

Wireless

Support 2.4G WIFI IEEE802.11B/G/N ,Security mode:WEB ,WPA+PSK,WPA2+PSK

WIFI hotspot(PA)

Support Wifi hotspot,If you don't have a network, you can use your phone to connect to your camera by wireless hotspot.

Network Protocol

TCP/IP,https,TCP,ICMP,UDP,ARP, IGMP,SMTP,FTP,DHCP,DNS,DDNS,NTP,UPNP,RTSP

Access Protocol

ONVIF

DDNS

Support third-party DDNS parsing services.

Mobile App

Support setting:about device review,system setting,Password setting,OSD setting,Video setting,Timing Capture,Mirror setting,IR led setting,Email setting,FTP setting,Alarm setting,Wifi setting,Network setting,Audio seting,Recording setting,SD card setting,cloud upgrade etc.

Snapshot(auto snap and timing snap)

Support Remote timing snapshot,and support mobile view images

Moving detection snapshot

Time

Support :time.windows.com,time.nist.gov ,time.kriss.re.kr,time.nuri.net etc. ,Network Time Protocol

Motion detection

At most 4 respective regions

Alarm linkage

E-mail Alarm and Send with Picture , Save Picture on the FTP Server , Save Video on the FTP Server , Relay out , Save Picture on the SD Card , Save Video on the SD card ,alarm send message to mobile phone APP

Record

Support computer local record,SD card record,Browser record,FTP record,P2P client software record.Video recording includes: timing record,motion detection record,Schedule record,alarm record

Playback

Support SD card record playback,support SD card images playback

User management

Provide three levels of rights management (admin, user, guest), support to modify login user name and password

Inter Power、consumption

DC12V 3A

Working temperature

-40℃ ~ +85℃

Working Humidity

-10-95%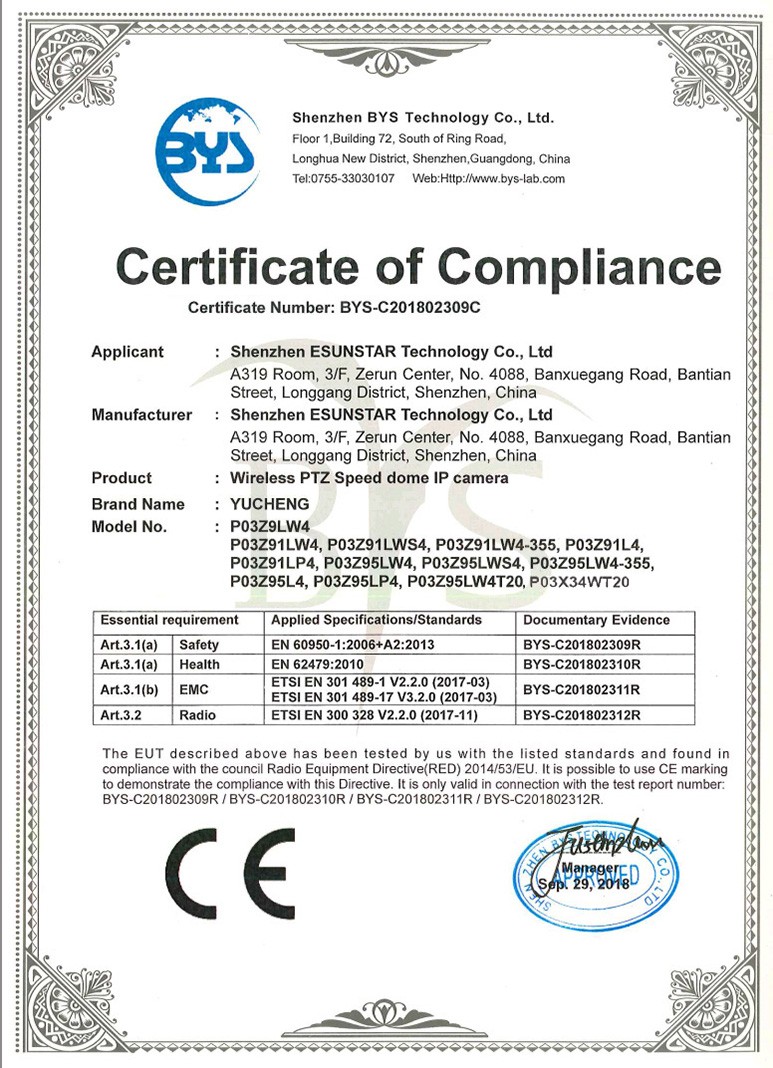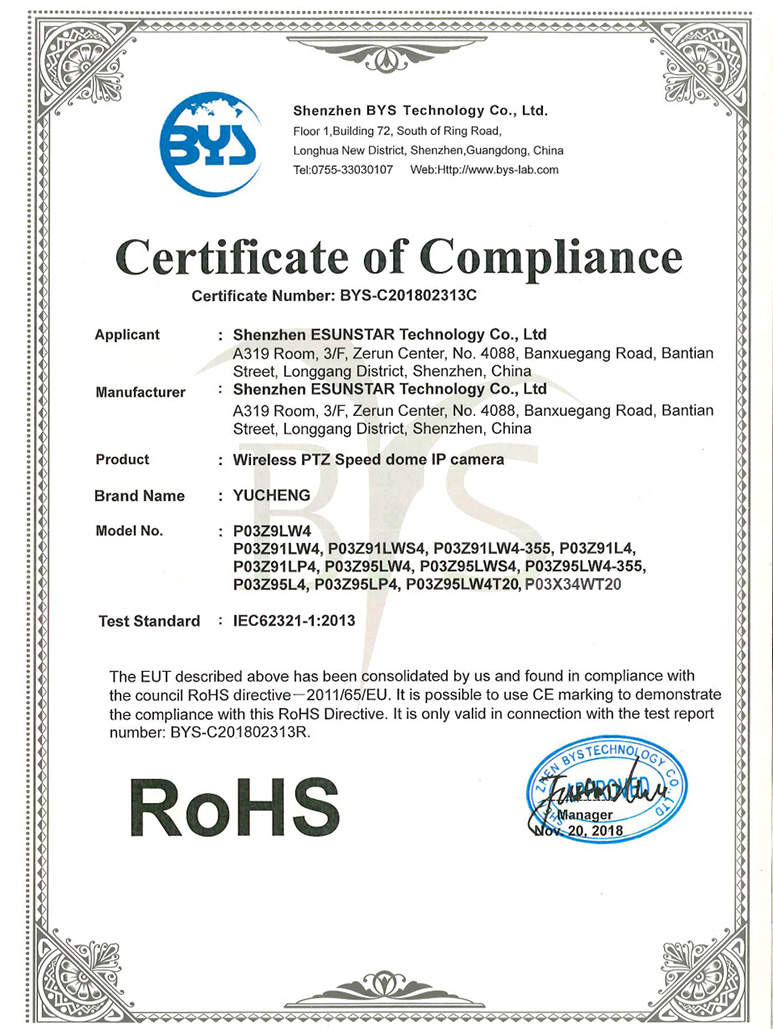 Package list:

1x 5MP atuo tracking
1x power adapter
1x manual and all software